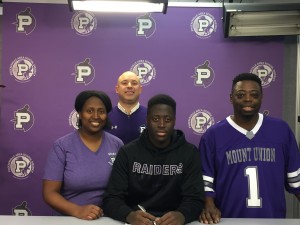 Name: Nasir Green
High School: Phoenixville Area High School
Graduation Year: 2017
Position: Wide Receiver
College Choice: University of Mount Union
Parents/Guardians: Aisha & Rashid Green
Academic/community service: Coach for the Phoenixville Marian Youth Club
College Major: Biology/Pre-Dental
Why did you choose this school?
I chose Mount Union because I think it is the best fit for me.  Mount Union Football is nationally recognized and I look forward to the challenge of playing for such a great program
Reflections on your high school season/career:  ­­­­­­­­­­­­­­­­­­­­­
I broke my collarbone during my sophomore year, but was happy to be able to recover from that and have good seasons in my junior and senior years.
Goals/expectations for your college career:
I want to continue to improve on the field, get stronger and have the opportunity to compete for a National Championship.